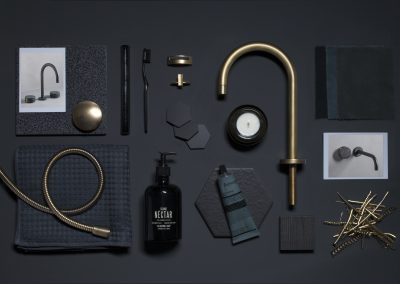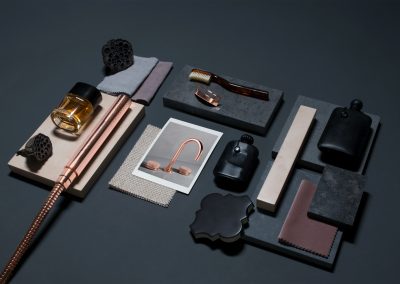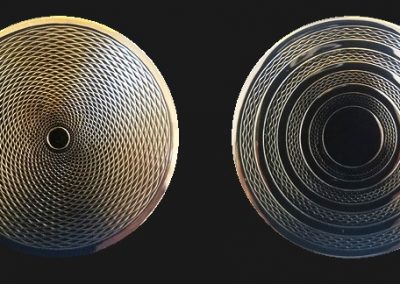 Watermark Designs' faucet collection, Elements, offers the ability to play with colour, form and texture, in the creation of a unique design statement. The Elements collection is the first self-designed faucet collection that is redefining custom designs by giving the consumer an endless possibility of faucet choice combinations. Elements is comprised of 16 handle styles, called Covers. Every Cover has a base with 24 finish options and two options for inserts. The decorative inserts are offered in two styles: Bridge style and Scallop style. Both the Insert and base are available in Watermark Designs' 24 finishes.
The Elements collection is comprised of 16 handle styles, which are called Covers, and which were designed by the Watermark Designs Studio, are grouped into four material categories: Raw, Rock, Lumber and Forged.  RAW was created by JM Lifestyles, USA.  The cover features hand poured, sealed and reinforced concrete and is available in Chalk, Military and Poured & Screed. ROCK was created by Marmi Serafini in Italy. The cover features uniquely hand-finished natural stones and marbles and is available in Cararra, Exquisite Rose and Jungle & Volcano. LUMBER was created by WoodForm in the US. The cover features real wood grain and texture captured and sealed into concrete and is available in Charred, Ground and Smoked & Teak. FORGED, created by Anaka in the UK features handworked and lacquered liquid metal in Oil Slick and Oxblood.
Recently, Watermark Designs has begun offering additional Covers using the fine art of Guilloche. Guilloche is a decorative technique in which a very precise, intricate and repetitive pattern is mechanically engraved into an underlying material via engine turning, which uses a machine of the same name, also called a rose engine lathe. Examples of Guilloche are seen on fine timepieces and, most famously, the Faberge eggs designed in the 1880s for Russian royalty.