MY FAVOURITE THINGS: ROBERN VITALITY LIGHTED MIRRORS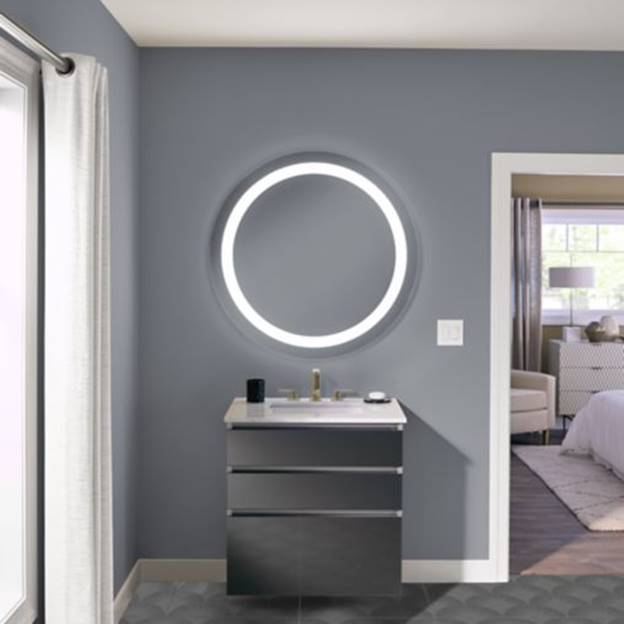 The bathroom is an important aspect of our home for my partner and I. We both take pride in how we look (do not get me started on his hair), and find ourselves fighting for time in the morning. Anyone who works a lot with mirrors putting on make-up, getting ready for an important meeting or styling hair knows that sometimes a basic mirror doesn't cut it. Robern has a solution, and an added touch that brings it above the rest.
Lighted mirrors are a trend that I would like to see stay for a while. Not only do they make getting ready easier (lighting really is everything, and bulbs do not always do the trick), but they also can provide energy savings over running multiple bulbs through the science of LEDs.
MIRRORS WITH INTEGRATED LIGHTING ARE NOT NEW TO THE BATHROOM SCENE, MIRRORS WITH LIGHTING THAT IS SEAMLESSLY INTEGRATED ARE RARER. WHEN A QUALITY SET COMES UP AT A GREAT PRICE IT IS HARD TO RESIST.
While I said that we spend a lot of time in the bathroom in the morning, and are often fighting for mirror time, the final feature that I wanted to talk about in a Robern Vitality mirror helps save time, and makes those mornings easier. We have a particularly small bathroom, and like particularly warm showers. This means our mirror easily fogs up and takes time to wipe down or de-fog, not to mention the cleaning that has to happen after with all the streaks that seem to accumulate. This Robern mirror solves this easily, and includes a defogger pad in the middle of the mirror so that this no longer an issue.